YOUNG ADULTS
Young Adults @ GM serves young adults, ages 18-30, in various stages of the YA journey! YA Connection Events are intentionally designed to create opportunities for young adults in the greater Frisco area to find Godly community and a place to worship, serve, and give.
Genesis Metro is a relational community. We invite you to join a Young Adult LifeGroup for small group connection & depth of discussion, and participate in the monthly large group connection events throughout the year. Visit our events page to learn more and register for upcoming events!
Have lunch with us!
Join us every Sunday for lunch at a local restaurant, following the 11:00am service. Send us an email to let us know you're coming!
GM Young Adults are headed to Passion 2022!
Passion Conference is an annual gathering of college-aged students (18-25) from around the nation with a singular mission – to live for what matters most: the name and renown of Jesus. The conference includes worship & teaching from Louie & Shelly Giglio, Christian & Sadie Robertson Huff, Kari Jobe, Christine Caine, Crowder, Cody Carnes, Passion Music, and more! Visit passion2022.com for the full lineup!
GM Young Adults will make the trek together from Frisco to Atlanta early Saturday, January 1, with time built in throughout the trip for activities, fun, and discussion! Passion begins on Sunday evening and continues through Monday night. We will return to Frisco on Tuesday, January 4.
$225 Registration Free includes admission to the conference, travel & lodging! Spots are limited, but your registration and $50 deposit saves your seat! Visit the EVENTS page to register!
You won't want to miss this exciting opportunity to be challenged in your faith, grow closer to God and your church family, and hear from renowned speakers and worship leaders! Fun and memories are guaranteed!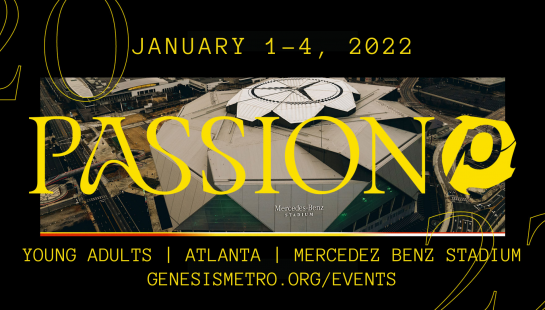 FIND A YOUNG ADULT LIFEGROUP
YOUNG GUNS
Mondays @ 6:30pm

Career (early - late 20s)
Leaders: Joel & Abby Priestley,
Kristen Smith
Young Adults
Frisco - Park West
INQUIRE
GMU
Sundays @ 5pm

College (18 to early 20s)
Leaders: Lyn Estebar & Tintin Nguyen
Frisco - Grayhawk
INQUIRE
THE GOONIES
Tuesdays @ 7pm

Leaders: Jonah & Jordan Berberich, Justin Acosta
College/Career
Frisco - Rotating Host Homes

INQUIRE